ACL reconstruciton in Mountaineer
Submit Your Testimonial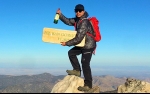 Hi Dr. Shepard
On November 17th, 2014 – you replaced my ACL with my Patella Tendon.
The road to recovery was tough, not just from dealing with the pain but it took a toll on my morale. I was limited on what I could do and as most active people you know, this was a big setback in our lives.
On November 14th, 2015 – 3 days shy from exactly 1 year, I summited San Gorgonio (11,503 ft), the highest peak in Southern California which took me about 16 hours because of icy conditions. This was a big accomplishment for me. Not just physically but I am very much LIVING again.
With that, I am grateful and thank you so much for your care (of course this includes your staff/team) – the attention to details, the personable approach, the flexible scheduling, educating me on the procedures, the words of encouragement, and of course the prayers.
God Bless!